What is the Growth Summit
If you are a leader, entrepreneur, or "doer" in South Carolina, you don't want to miss out. The Growth Summit is a one-of-a-kind event for people that have a desire to grow themselves, their network, and their company.
This annual event brings together the most forward-thinking minds in South Carolina to learn directly from noteworthy experts on how to better themselves and their business. You'll have a guaranteed good time while meeting and learning from like-minded movers and shakers.
Photos From The 2020 Growth Summit Event
Entrepreneurs. Leaders. Doers.
Doesn't that about say it all? If you are one of those three things, this is a can't miss event.
We have had attendees from all over the country come to the Growth Summit and leave inspired to take action. They come to grow themselves, their network, and their business. If that is what you want to do, this is the event for you.
1 Day
15 + Speakers
150 Attendees
About the Event
The Growth Summit started in 2015 as a small group of folks trying to learn more about how to create a great company. The event grew until last year we had more than 250 attendees. The event was started by Matt Vaadi from ERG Payroll & HR with the intent of creating Columbia's future conference. The one that attracts people from all over the region to come together and learn how to create a business that matters. In 2020, the event has been handed over to GrowCo. GrowCo's vision is to 10x the number of Inc. 5000 companies in the Midlands and that aligns perfectly with the vision for the Growth Summit.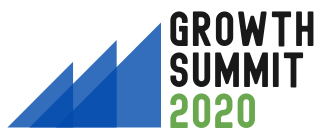 Hosted by